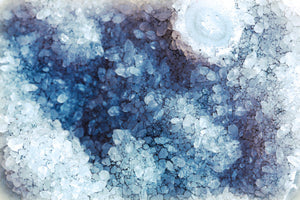 Crystal Spotlight
The seemingly endless uses and types of crystals can sometimes feel overwhelming to any beginner dipping their toes into crystalline practices and knowledge. You might often hear about the importance of finding crystals for what it is you need, as being intentional in your selection often ensures that the crystal's uses will come to be. With so many types out there, how can you know what you've selected works for you?
I am going to highlight some uses for four of our favorite stones in hopes we can help you choose the best crystal for your needs.* I am going to bring you along to explore the physical and healing properties of clear quartz, rose quartz, moonstone, and lapis lazuli.
*As with any spiritual practice, crystals are incredibly versatile so we also encourage you to do more research into your stones to make sure you understand its capabilities and spiritual powers.
Clear Quartz
Clear quartz can be quickly identified by its glassy, cloudy, and clear appearance. This crystal is colorless and transparent, and may have small inclusions that look like smudges, making each one truly unique. This crystal is what most people envision when the word "crystal" comes to mind.
Clear quartz is an incredibly versatile stone, and can be used to magnify many spiritual practices and rituals. Some uses include:
Rose Quartz
Rose quartz is a deeply beautiful, highly sought after member of the quartz family for its potency when dealing with all matters of love. It can be classified by its hazy, translucent nature. Its color can range from the faintest of peach to vivid, deep pinks.
Rose quartz is often considered to be the stone of universal love. If you are seeking guidance in the ways of love, you have found yourself a match. Rose quartz can be used to:
Moonstone
Moonstones range in appearance from opaque to transparents, and colorless to white with accents of blue, silver, green, yellow/brown, or grey/black. It can be identified by the presence of adularescence, an optical phenomenon produced to give off a metallic iridescence.
Moonstones are truly stunning to behold, and come with a variety of spiritual uses:
Lapis Lazuli
The dreamy, flowy blues of the lapis lazuli stone make it an easy one to identify. Its deep hues range from blue to violetish blue, and the crystal may contain gold-colored pyrite flecks.  
Lapiz lazuli is considered a universal symbol of wisdom and truth, can be used in a variety of ways:
In Your Jewellery
Just as we are mindful in the materials and designs we create at Kaiko Studio, we are just as intentional and mindful with the crystals we select for our pieces. If any of these crystals call to you, we encourage you to try working with and wearing them to see how they can unlock hidden parts of your life, balance your energies, heal wounds you didn't know were there, or promote unconditional self-love.
---